Have you been looking for a way to carry your cards, cash, and important information that fits your style? Are you tired of just using a money clip? Whenever you go shopping for a wallet, does each seem less attractive than the last? You certainly aren't alone. Indeed, a wallet/personal organizer can be one of the most important items you carry every single day. It has to be able to carry what you need it to carry while always looking great, too. That's just one reason so many use a Filofax as wallet: it looks great and gets the job done. 
Filofax Wallet Explained 
At first thought, the idea of making a wallet out of your Filofax planner may not sound right, as if you're using it for something other than its intended purposes. After all, for the most part, a Filofax is bigger than a wallet. However, with certain models, it's actually more convenient. Instead of carrying a wallet and a Filofax planner, for example, the Filofax can just take the place of your wallet. Models like the Malden or the Holborn absolutely have plenty of space for you to put your ID, credit cards, pictures, cash, coins, and much more. 
More Than a Traditional Wallet Could Ever Offer 
All of the above having been said, no wallet has all of the functionality a Filofax planner does. Wallets don't come with plenty of pages with which you can organize your days, nor do they have a space for a pen, too. Of course, as you probably know, a Filofax planner has pages that are set up for you to do so much more than just "organize your days." Depending on the model, there might be plenty of pages made for to-do lists, contacts, and so much more. Beyond that, unlike many wallets, some Filofax models have zippered pockets, too. So, the days of worrying about change, cards, and more dropping out of your wallet as you bring it out of your pocket or purse are gone.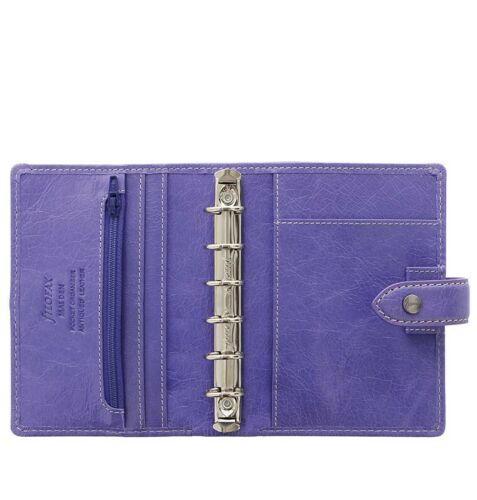 A Look Unlike Any Other Wallet 
Wallets, even the most expensive ones, tend to have little differentiation of colors or design. Filofax planners, however, have so many different kinds of colors, designs, and more. Bright lime green to stoic brown leather and everything in between – there's a Filofax planner that can go with just about any outfit you could wear. 
A Filofax to Fit You 
A Filofax can be made to be a wallet, yes. But, it can also be made to be so many other things, too. As a Filofax has so many different uses, it can serve any number of needs. There are folks who use a Filofax as a notebook, others as a diary, still others as a personal organizer – and that can all be just one Filofax. If you'd like to see what Filofax products are available, you can find our catalog at our site. For any other questions, you can reach us at (818) 850-9658.